Featured in "World Premiere toons"
Created by Graig McCracken
Produced by Hanna-Barbera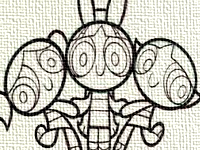 When danger looms in Townsville, the call goes out for Bubbles, Blossom, and Buttercup -- The Powerpuff Girls! Under the watchful eye of their mentor Professor Utonium, the girls fly into action against a colorful gallery of nefarious villains -- saving the day before bedtime!

Created by cartoonist Craig McCracken, the series began life as one of Cartoon Network's World Premiere Toons.